Chad's Governor's Wing Sauces
This wasn't the original name, but when Maryland Governor, Larry Hogan, said the sauces and wings were his favorites at Chad's restaurant, well it was just meant to be. While it did change names, it didn't change its fantastic flavor. And how this came about was fairly simple, we wanted a buffalo style sauce. Chad took to the kitchen with his brother-in-law. After experimenting and many taste tests later, the Governors's Wing Sauce was born.
It was a family affair and based on good ol' fashion hard work. Our sauce is made with REAL butter, not butter flavoring. It is the perfect touch to top off your favorite wings or even make other chicken dishes. This is a sauce that won't disappoint and bring flavor to any dish.
Keeping with Maryland tradition, I dip my pen into a drop of Chad's wing sauce before signing any bill into law. This sauce keeps Maryland strong." – GOVERNOR HOGAN, 2017*
*this may or may not have been said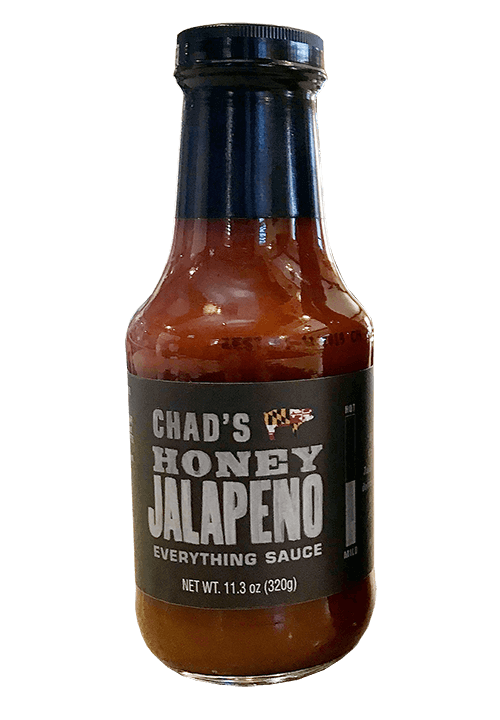 Chad's Honey Jalapeno Everything Sauces
When we say everything sauce, we mean it. Unlike our very planned out Governor's Wing Sauce, this baby came by surprise. Chad's joined the Maryland Chicken Wing Festival and competition with local Maryland contenders for many different categories. The thing was, we needed at least two wing sauces, and at the time we only had our trusty Governor's Wing Sauce. Since that covered the BBQ category for our wings, we need another for an alternative category. That is when Chad made some magic and came up with Honey Jalapeno Everything Sauce!
Boy, was it a success! Not only was it a HUGE hit but won first place in its category! Since it was just made for the competition, Chad decided to try it out at the restaurant too. It was an instant success. Something about the sweet and hot together made everyone a fan. Don't just take our word for it though, try it for yourself.
After receiving word of Chad's delicious Honey Jalapeno BBQ Sauce, I have decided to lobby for a charter in Maryland. We must relocation for the sauce. – George Calvert, First Lord of Baltimore, 1630*
*this may or may not have been said
Chad's Sweet & Tangy BBQ Sauce
We love Maryland and we love family. So it's no surprise this sauce was also created with family in mind. Chad was inspired by his father-in-law to make this sweet and tangy sauce. It started with something sweet, put some acid to balance out the mix and then in some added spice. It also comes with no preservatives and no fake smoke.
My dearest Anne, I have discovered a BBQ sauce that makes my heart burst with pure joy, much like your sweet and tagy love. You (and the sauce) complete me." – Excerpt from Cecil Calvert's Letter to his wife, Anne Arundell, 1633*
*this may or may not have been said