3 Recipes to Try with Chad's Sauces
If there's one thing we know to be true, it's that there's no such thing as good BBQ without an equally good sauce. Some would even argue that it's the best part, but that's still left to be debated. The perfect sauce isn't too sweet, too tangy, too hot, or too smoky. It's not overly thick or thin, but just right. You'll know it when you taste it. So, whatever juicy BBQ you choose to indulge in, don't skimp on the good stuff. And, by 'good stuff' we mean Chad's sauces. This fall, get cookin' and try these delicious recipes made with Chad's homemade sauces. 
Slow Cooker Baked Beans – Sweet & Tangy BBQ Sauce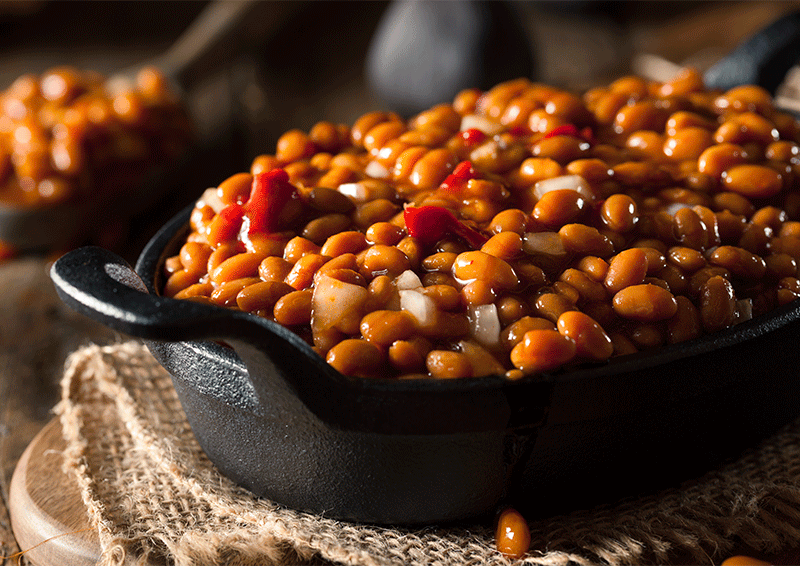 Baked beans are one of the most popular sides to pair with BBQ and for good reason. They're sweet, tangy flavor and tender, creamy texture makes them an undeniable hit at potlucks, holiday feasts, or virtually any time of the year. Even more, the house smells wonderful while they are cooking in the pot. Make your mark at the holiday party with this slow cooker baked beans recipe, prepared with Chad's Sweet & Tangy BBQ Sauce.
DIRECTIONS:
Drain

1 bag of dried navy beans and

cover with fresh water and bring to a boil. Simmer for about 1 hour.

Drain and rinse the beans, then transfer them to a slow cooker insert. Add

one 6-ounce can tomato puree

, ½ cup brown sugar, ¼ cup molasses, 1 tbsp dry mustard, 8 slices of cut bacon, 1 large diced onion, and 1 ½ cups water and stir to combine. Cook on low until the sauce is thick and syrupy, 8 to 10 hours.

Before serving, stir in ¼ cup cider vinegar, 1/4 cup of Chad's Sweet & Tangy BBQ sauce, and season to taste with salt.
BBQ Beer Brats & Peppers – Honey Jalapeno BBQ Sauce
For the beer-lovers and spice enthusiasts, this recipe is just for you. This flavorful BBQ Beer Brats and Peppers recipe is a new take on grilled brats. And, this meal is fit for a hungry crowd, so try cooking up this tasty BBQ in preparation for your next football tailgating party.
DIRECTIONS:
Place 1 bottle of beer, 1 bottle of Chad's Honey Jalapeno BBQ sauce, 1 large sweet onion, 1 large yellow pepper, 1/2 cup kitchen, 1 thinly sliced jalapeno pepper, and 1 thinly sliced serrano pepper in a slow cooker. Then, stir to combine.

In a large skillet, brown bratwurst on all sides over medium-high heat. Then, transfer to slow cooker.

Cook, covered, on low 6-8 hours or until sausages are cooked through and vegetables are tender.

Use tongs to serve bratwurst and pepper mixture on hotdog buns.

Top with extra Chad's Honey Jalapeno BBQ sauce.
Buffalo Cauliflower Bites – Chad's Governor's Wing Sauces
This tasty, meatless recipe is perfect for the vegetarians or vegans in your group of friends. Buffalo Cauliflower Bites taste just like chicken wings, and you wouldn't know it, but they're much healthier and surprisingly low carb. And, because cauliflower tends to take on the flavor of whatever it's cooked with, there's no shortage of bold, robust flavor in these bites. So, if you're not a fan of the taste of cauliflower, you shouldn't have a problem loving this recipe. Most importantly, when you top it with Chad's Governor's Wing Sauce, you won't miss the chicken at all.
DIRECTIONS:
Preheat the oven to 450°F. Spray a large non-stick baking sheet with oil.

Combine 1 cup of water, 1 cup all-purpose flour, and 2 tsp garlic powder in a bowl and stir until well combined.

Coat cauliflower pieces (about 6 ½ cups) with the flour mixture and place on the baking sheet. Then, bake for 20 minutes.

While the cauliflower is baking, combine ¾ cup of Chad's Governor Wing Sauce and 1 tbsp melted unsalted butter in a small bowl.

Pour the wing sauce mixture over the baked cauliflower and continue baking for an additional 5 minutes.

Serve with blue cheese dressing or ranch if desired and celery sticks.
At Chad's BBQ, we're very proud to make our own BBQ sauces. It's just as important as smoking the perfect BBQ. And, don't forget to stop in and pick up your favorite sauces in preparation for the new recipes. As always, if you don't feel like cooking tonight, check out our menu of authentic BBQ dishes and yummy sides.
Have any BBQ suggestions of your own? Let us know on Facebook!