Top 5 Flavorful Menu Items of the Day
We all have days when we're too busy or too tired to cook dinner for the whole family. That's where Chad's BBQ comes in to save the day. We've been cooking up quality smoked meat since 2013 and our BBQ restaurant stands out as one of the best. Why? Because we make every one of our menu items from scratch. Plus, we slowly smoke all the meats and create unique spice rubs in house. So, just give us a call and we'll put together a family-style meal that's packed with smoked flavor and ready to serve. To get a better idea of what to order, check out our top five flavorful menu items.
1. Honey-Jalapeno Wings

Chad's is voted the best wings around and is even Maryland Governor Larry Hogan's go-to. The wings are slow-smoked and slathered with our award-winning honey-jalapeno sauce, adding a hint of sweetness and a kick of spiciness. Sooth your jalapeno-filled palate with a side of blue cheese (or ranch) and celery.
2. Carolina Pulled Pork Sandwich
A BBQ restaurant should obviously have the best BBQ on the menu. And, given its smoky flavor, our Carolina pulled pork sandwich is a client favorite! Add a side of pickles or coleslaw for extra tang.
3. Baby Back Ribs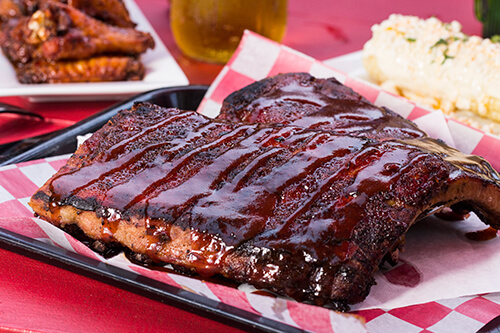 Tender, slow-smoked ribs coated in Chad's homemade BBQ sauce are a fan favorite, of course. And, they're not for the faint of heart when it comes to messiness. Simply dig into a full or half rack of fall-off-the-bone ribs and don't mind the mess. Needless to say, the flavor is worth it.
4. Smoked Burger
This 8 oz. juicy beef burger is slow-smoked and piled high on a potato roll. Then, we top it off with homemade bacon jam, arugula, and sliced tomato. Even more, the Black Angus beef from Creekstone Farms is hormone and antibiotic free. Add on some roasted garlic mayonnaise for an extra kick of flavor.
5. Chad's Sampler
Having a hard time deciding what to order? The sampler may be the way to go. Indulge in smoked Kielbasa sausage link, 2 BBQ smothered baby back ribs, and a heap of tender, slow-smoked pulled pork. In addition, you can enjoy homemade pickles, onions, and bread on the side. Overall, Chad's Sampler is your best chance to taste a variety of delicious items on the menu without having to choose just one.
Meet the Cook, Chad Sargent
With over 25 years of experience in all things culinary, it's safe to assume that Chad Sargent's customers are in very good hands. In fact, Chad has learned from the best of the best throughout the Annapolis and Baltimore regions. But, most importantly, he believes in using only the freshest ingredients from local sources in his recipes. So, when you dine at Chad's you know you're getting hormone and antibiotic-free meat.
Get Your BBQ Fix
At Chad's BBQ, we offer so many flavorful menu items for every taste bud imaginable. From our homemade sides like sweet and crumbly cornbread and sweet potato fries drizzled with caramel to our unforgettable smoky BBQ, we'll turn you into a fan. We also provide catering for any type of event, whether it's a wedding, football tailgate, or business dinner. Just let us know how many people we need to feed so no one goes hungry!