2020 Marks Our 7th Anniversary
It has been 7 years! That's right, 7 great years of smoking your favorite dishes, connecting with our awesome community, and rocking out new recipes. Over the years, we have been visited by Governer Hogan, made award-winning wings, built our craft beer selection, and bottled our sauces – just to name a few things. We are so thankful for our friends, family, and customers who have made the past 7 years amazing. So, to mark 2020 and our 7th anniversary, we just want to list the 7 things we are looking forward to this year.
1. Another Year of Mexican Corn
Any of our regulars know exactly what Mexican Corn is and why it's a customer favorite. Summer isn't summer without Mexican corn making its way back onto our menu. This is a seasonal menu item. Why? Even though it's super popular, we are committed to fresh and delicious ingredients. That is why we don't carry this dish past its harvesting season.
If you haven't heard of our Mexican Corn, well you need to come around about mid-July. That is when we take corn smothered in Guajillo chili butter, cover it with lime mayonnaise, give a nice heap of Cotija cheese and sprinkle it with cilantro.
2. Helping Customers Celebrate Milestones
From weddings to backyard birthday celebrations, Chad's BBQ has been able to celebrate alongside our wonderful customers by catering their events. We love the support and that you continue to choose us for your special occasions. We offer pick-up orders, delivery and drop-off, and full-service catering. At times, catering events are the first time people have tried Chad's outside our community. It's always great when we see clients turned into customers, just like Joey who left us this message:
"I had eaten at Chad's once before for a business lunch, so, I brought the family, wife with 3 children (4 and under). My wife and I absolutely loved it-the food is amazing! And the kids had an awesome time. We sat outside, and the atmosphere was perfect. The staff was very nice and helpful for the kids. We'll definitely be back!"
3. Listening to Awesome Throwback Music
Anyone who has been into our restaurant knows exactly what lines our walls. It might seem a bit odd for people coming for the first time. Why have music albums decorate the wall? Truth be told, like BBQ, music brings people together. There is nothing quite like connecting with others. That has been our mission from the start. Sit down, enjoy great food, brews, and settle into the atmosphere. It's always enjoyable to see people pick out their favorites from their youth or kids ask their parents about their music. We even created a summer playlist of our favorite throwback tunes. What's your favorite album on our walls?
4. Finding New Friends
There is nothing like seeing or reading the reactions to first-timers enjoying Chad's. From the rave reviews on Google to comments on Facebook – and of course, seeing it first hand. It's really one of the best parts of this job. We currently have over 3200 friends on Facebook. We are looking to increase that in 2020!
One of the greatest gifts our regulars give us is their recommendations. We are so thankful for all your support. Help us continue by leaving us a review online, following, sharing and commenting on Facebook, and telling everyone you know to come visit.
People aren't the only friends we make either. With our back pet-friendly patio, we look forward to meeting all your furry family members this year, too.
5. Smoking More Meat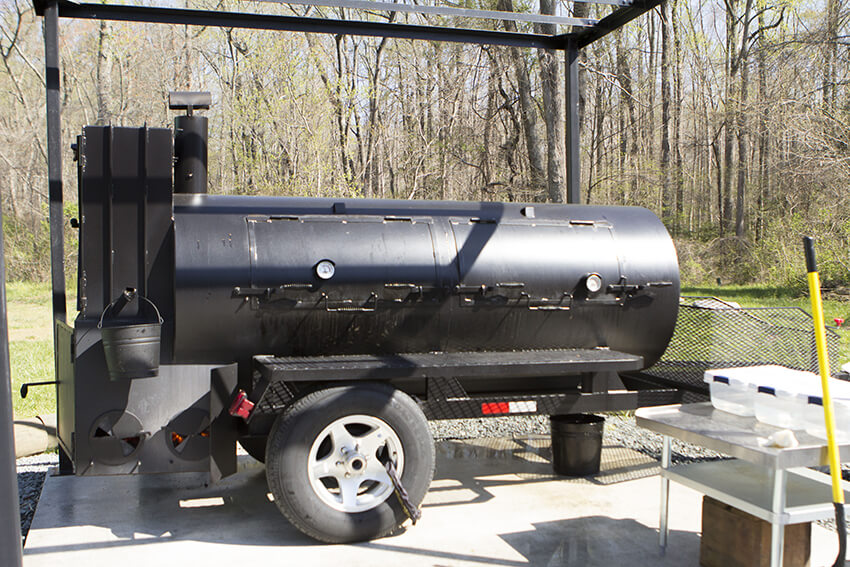 Well, this is a given right? We smoke everything. Seriously. Burgers, ribs, sausage, and wings. It's what we do best. But it's much more than that. Our passion is great food. All our recipes, from sauces to side dishes, are tested, changed, and perfected. Our menu even includes gluten-free buns and carb-conscious combinations. There is something for everyone.
Chad's BBQ has one of the only outside smokers in Edgewater, Maryland. For our ribs alone, we take 6 hours to prep and cook before they make it to your plate. And we think people understand we are the experts on smoking meat. Our blog on wood for smoking meat has even gotten over 300,000+ views. We will continue to learn and perfect our craft for many years to come.
6. Bringing Family Together
Chad's BBQ has always been about great food and the backbone of that is our families, friends, and extended family (customers). No matter what your family looks like, sitting around the table and enjoying a meal is so important. There are actually 8 good reasons for it, too. From kids to adults, taking the time to sit and share a meal does wonders for our health. However, we know how hard it is to make dinner 7 days a week, every week. Sometimes we need an easy, delicious go-to. That is why we have family meals.
Our family meals were created to make it simple, and take the guessing out of ordering out. We have meals that feed small to large families. It's a great addition to your weekly dinner plans or as a last-minute solution. It's hot, fresh, and yummy for the whole family. Even if it isn't our family meals though, we hope you join us in making family mealtime an important part of your year.
7. Supporting the Local Community
This isn't something we advertise a lot, because for us supporting our community isn't about the press. We have charities and non-profits we work with that are near and dear to us. If you follow us on Facebook, we announce any events you can help support. However, this is more of a call-to-action. As you support Chad's, a locally owned business, we hope you continue to do that in a variety of small businesses, even other local restaurants. It's our community that makes us strong. For the last 7 years, we have seen how amazing that community is and how supportive you are. Spread the love and keep picking local small businesses.
Here's to the next 7 years! Keep an eye out for our anniversary specials. (Hint: June is our anniversary month, so usually we have some fun specials posted on our Facebook.) Cheers!